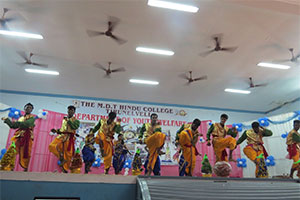 Our college aims at the multi-personality development of the students. it makes the students concentrate and excel not only in academic endeavors but also in other extracurricular activities. Department of Youth Welfare is functioning with a high goal of elevating each student into the best citizen of future India. The following faculty members are looking after the department:
Coordinator- Dr.R.Johnson Victor Babu, Head, Dept. of English
Asst. Coordinator- Dr. R.Ponmani Subha Chellam, Asst. Prof. of English
The department encourages the students to participate in many awareness programmes on social issues and personality development. it is very keen in bringing out the hidden talents of the students. The department offers the best platform to improve the self-confidence and a sense of responsibility of the students. One of the department's special features is its reputed 'Cultural Team' which has own awards and prizes wherever it performs. Folk orchestra and folk dance are the specialty of our team.
KALAI PONGAL
Every year Department of youth welfare is organizing a Inter-Departmental cultural competitions. Students are actively participating in various art events and stage events with high spirit. Students are encouraged by distributing prizes and overall winner and runner trophy to the department.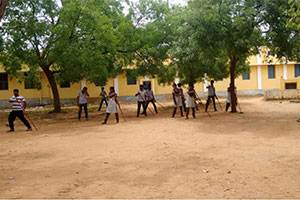 CERTIFICATE COURSE ON SILAMBAM FOR GIRLS
Girls' safety is the hot topic of today's India. Girls are somehow socially forced to equip themselves with some self-defense mechanism. Keeping this in view the Department of Youth Welfare and NSS Unit jointly organizing a Certificate Course on Silambam exclusively for girls. Reputed women trainers were invited to train the girls in handling Silambam.
CULTURAL TEAM EXCURSION
Every year the students of Cultural Team were taken a one day study tour to Tiruvandhapuram and Kanyakumari to learn Kerala dance and other arts. The students enjoyed the trip and gained good knowledge over the art and culture of Kerala people.