THE MADURAI DIRAVIYAM THAYUMANAVAR HINDU COLLEGE
ABOUT The M.D.T Hindu College
The Madurai Diraviyam Thayumanavar Hindu College, Tirunelveli, founded in 1878 has been a feather added to the cap of Tirunelveli city. It functions in a total area of 83 acres. The college is located 8km. from Tirunelveli Junction railway station, 8km. from Tirunelveli Junction bus stand and 13km. from Tirunelveli new bus stand. It has been a centre of learning catering for the needs of young men and women of all creeds.
The University of Madras was bifurcated in 1966. The colleges in South Tamilnadu came under the control of Madurai University, which was later renamed as Madurai Kamaraj University. Again, when Madurai Kamaraj University was bifurcated the college was got affiliated to Manonmaniam Sundaranar University, Tirunelveli. The college holds the high honour of having had "Manonmaniam Sundaranar" as its first Principal.
The College has attained a "2(f) and 12(B)" status according to UGC Regulation Act. Presently the college functions with 9 UG programmes, 5 PG programmes and 5 Research Departments in the aided stream and 6 UG programmes and one PG programme in the Self-Financed stream..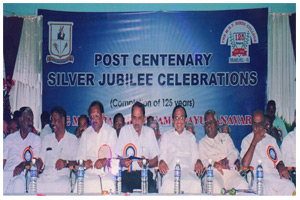 The college celebrated its centenary year in 1979. The celebration was graced by the presence of the Honourable Prime Minister Shri.Moraji Desai, His Excellency Shri.Prabhu Dass Patwari, Governer of Tamilnadu and the Honourable Chief Minister Shri.M.G.Ramachandran. In 2004 the college celebrated its 125th year Post Centenary Silver Jubilee. The Honourable Finance Minister of India Shri.P.Chidambaram, the Honourable Home Minister(State) of India Shri.S.Ragupathy, Honourable Shri.S.Rathnavel Pandian, Former Justice Supreme Court of India, the Honourable Shri. P.H.Pandian, Former Speaker of Tamilnadu Legislative Assembly were some of the men of high reputation who took part in the celebrations.
The management feels proud almost serving the poor and the downtrodden. It receives capitation neither for admission nor for appointments.