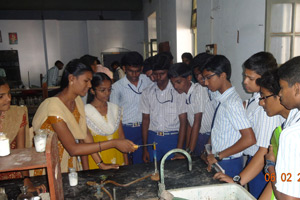 CONNECT
CONNECT is one of our Out Reach Programmes. The objectives of the programme is to kindle enthusiasm and to create an awareness about Cos, POs & PSOs in the minds of the young school children. Therefore, the neighbouring school children preferably from XI standard are invited to visit our science laboratories. A staff member from each department is nominated to enable the smooth conduct of the programme. Also ten trained students are selected to assist the staff members in each department to make the programme more interactive and vibrant. Mr.V.Ponnuraj, the then principal i/c introduces this activity during the academic year 2009-2010. Feed back is collected from the visitors at the end of the visit. CONNECT has imparted rich and everlasting scientific memories in their mind.
Hindu college Outreach Programme ( HORP)
The students are taken to the community from the college through a special programme HORP. This outreach programme was established with the noble purpose of motivating students in community service. HORP has adopted a nearby colony – a special village exclusively inhabited by the gypsies. The learners of our college are periodically visiting the colony to conduct programmes on Personality development, Yoga, Drawing, Reading skills, Arts & crafts, Jewel making, selfhygiene and Natural beauty tips. Through this practice the learners get a chance to act as mentors.
Award for Outreach Programme (HORP)
Dr.A.S.Ganga, Assistant Professor of Zoology
"Best Social Service Award" from District commissioner ,Tirunelveli Corporation on 15.8.2017.
"Award of Appreciation" by 'UNICEF', CHO, R. Soya Trust, ICDS for social work among gypsies, on 17.8.2017
"Sirantha Samuthaya Sevakar" for social works among gypsies on by Ennagalin Sangamam on15.04.18