"We are not just going…, but growing towards excellence"
Internal Quality Assurance Cell, a post-accreditation unit, was established in the year 2005 with its high aim to enhance a multifaceted quality of the institution. Also it tirelessly strive to create and maintain a student-centered atmosphere as suggested by NAAC. The unit functions with a primary and immediate objective of implementing the recommendations made by NAAC Peer Team that visited during the academic year 2011-12. Dr.A.Subramanian was the co-coordinator till the academic year 2011-12.The College Management designated Dr. R.Johnson Victor Babu, Head, Department of English as Coordinator with effect from 1st June 2012.
NEW IQAC OFFICE
In order to improve the infrastructure of IQAC office the College Management decided to set a new office for IQAC and a unique office with Coordinators Room, Front Office and Discussion Hall was structured at a cost of Rs. 2, 84,000/= and it shows the importance given to IQAC by the college management.
STEERING COMMITTEE
According to the norms given by NAAC, and UGC in its XI Plan, a Steering Committee was formed.The following members were placed in the Steering Committee.
STEERING COMMITTEE
Chair Person
Dr.A.Subramanian, Principal
Management Representative
Thiru. B.T.Chidambaram, Treasurer, The Educational Society
Management Representative
Thiru.R.Suresh, Member, College Committee
Local Society Nominee
Thiru. M.Kanagasabapathy, Senior Advocate & Notary Public
Local Society Nominee
Dr.V.Manickam, Professor (Rtd) of Tamil, St.John's College
Member
Dr. M.Elango, Head, Dept. of Physical Education
Member
Thiru. S.Elango Subramanian, Head, Dept. of Zoology
Member
Dr.K.Balasubramanian, Asso. Professor of Physics
Member
Dr.A.Seetharaman, Head, Dept. of Economics, Coordinator, UGC Schemes.
Member
Dr. A.Rani Shumnmuga Vadivoo, Asso. Professor of English
Member
Thiru. P.Paramasivam, Office Superintendent.
Member Secretary & Coordinator
Dr.R.Johnson Victor Babu, Head, Dept. of English.
SUB-COMMITTEE
In order to carry out the quality improvement schemes decided by the Steering Committee, in the concerned departments in an effective way, a Sub-Committee was formed with a member from every department. The following faculty members were placed in the IQAC Sub-committee.
SUB-COMMITTEE
Dr. T.Muthulakshmi
Dept. of Tamil
Dr.R.Ponmani Subha Chellam
Dept.of English
Dr.P.Jeyaprabakaran
Dept. of Economics
Thiru. N.Arumugasamy
Dept. of Physics
Thiru. T.Jeyapaul
Dept. of Chemistry
Dr. A.Sivagurunathan
Dept. of Zoology
Dr. K.Murugan
Dept. of Mathematics
Thiru. G.Neelakrishna Babu
Dept. of Computer Science
Dr.J.Karthikeyan
Dept. of Physical Education
Dr.S.Muthulakshmi
Dept. of Commerce
Thiru.G.Lakshmi Narayanan
Dept. of Computer Application (S.F.)
STEERING COMMITTEE MEETINGS
As per the norms of NAAC, Steering Committee Meetings were conducted regularly to design quality improvement plans.
Academic Year 2012-13
21-09-2012 Analysis of NAAC Peer Team Report
11-01-2013 Office Automation, Infrastructural Development, Library AMENITIES
Academic Year 2013-14
20-08-2013 Office Automation, Academic Year Plans, Establishing Wi-fi
30-10-2013 Establishment of Research Forum, Audio-Visual Teaching, Pending Issues
27-03-2014 Library Automation, Office Infrastructure, Pending Issues
17-04-2014 Approval of Financial Statement, Plans for Next Academic Year
Academic Year 2014-15
24-09-2014 Implementation of Annual Plan, Teaching through Technology
21-01-2015 ICT AMENITIES and Regulations, Renovation of Management Chamber, Auditorium False Ceiling, Motivating students towards prevention of anti-social activities
26-03-2015 Completion of Infrastructural development, Achieving Annual Plans, Environment Auditing, Submission of AQAR
23-04-2015 Approval of Financial Statement, Plans for Next Academic Year
Academic Year 2015-16
01-09-2015 Construction of New Toilets, Leadership and Soft Skill Programmes, Job-oriented Courses, Pending Issues
30-10-2015 Academic Auditing, Environmental Auditing, Pending Issues
15-03-2016 Formation of Data Centre, SSR Committees, Establishment of LEAD and HORP forums, Conducting SLET/NET Coaching
21-04-2016 Approval of Financial Statement, Fulfilment of Year Plans, Plans for Next Academic Year
Academic Year 2016-17
08-07-2016 NAAC Sponsored National Conference
06-10-2016 Review of IQAC Activities, Preparation of SSR
05-01-2017 Department Profiles, SSR Preparation, Infrastructural Improvements
20-04-2017 Approval of Financial Statement, Review of the Year Plan, Plans for Next Academic Year
Academic Year 2017-18
18-08-2017 Annual Plan, Result Analysis, Remedial Measures, Application for Reaccreditation
OTHER MEETINGS
Apart from the two major Steering Committee Meetings, the IQAC office conducted various meetings with all stake holders of the institution to implement various quality improvement steps and for the proper documentation of academic, research and other activities.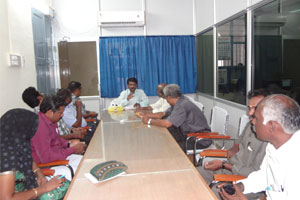 Academic Year 2012-13 : 8 Meetings
Academic Year 2013-14 : 11 Meetings
Academic Year 2014-15 : 16 Meetings
Academic Year 2015-16 : 19 Meetings
Academic Year 2016-17 : 23 Meetings
Academic Year 2017-2018: 18 Meetings
ACTION TAKEN DURING 2012-13
1. Electronic-via-Sharing of communication was established between all departments and IQAC office
2. Computer Training to Office Staff members were given by the faculty of Computer Science.
3. Library Automation – Initial steps were taken
4. E-Library was established in the General Library for deriving e-resources
5. New Journal Section was started.
6. New Toilets were constructed for girl students
7. Computer Lab was modernised
8. Zoology Laboratory was renovated
9. Leach Pits were constructed for better waste water management
10. Power Generator was purchased to cover up entire academic buildings.
11. Smart Classes were set up.
12. Modern Audio Equipment were launched in few classrooms and seminar halls
13. Separate office for UGC Schemes was established and a Coordinator was appointed.

ACTION TAKEN DURING 2013-14
1. Two new academic programmes i.e. M.Phil Physics and B.Sc Computer Science were introduced.
2. To enable more seminars and other academic programmes the college management has facilitate the institution with a new air-conditioned Seminar Hall in memory of former Secretary A.L.Subramanian. The Secretary ALS Seminar Hall has been equipped with ultra-modern audio-visual AMENITIES.
3. Library automation is on the verge of completion and it will enable the students to easily access the library books and other learning resources.
4. A new multi-purpose hall which can accommodate about 200 students was set up to conduct various programmes. This hall is quite airy with proper audio-visual equipment. It will enable various units of the college to conduct mass programme such as Ph.D Viva-voce, various awareness programmes, Medical, Dental and Eye check-up programmes, Campus Placement programmes and large scale meetings.
5. The Gymnastic Hall of the Dept. of Physical Education has been equipped with rate and expensive sports equipments and as it needs high level protection, the Dept. of Physical Education building was closely knitted with iron grill fabrication.
6. A new row of toilets with bathing AMENITIES were constructed near Indoor Stadium for the out station players who participate in sports events conducted in the Indoor Stadium.
7. A new redesigned dynamic Website with the URL www.mdthinducollege.org was launched with the unique features of the college and updated information.
8. Keeping the convenience of women staff in mind, the management granted sufficient funds to set up a new Ladies Rest Hall with modern toilet AMENITIES and the same work was completed.
9. As the college has centuries old culture and heritage a memorial pillar was erected in the place where the first 'Boomi Pooja' was done in the year 1950 in order to remind the footsteps which the institution has crossed gloriously.
10. As the college management is very keen on the safety of the students five more fire safety equipments were fixed in various parts of the college.
11. Apart from the smart classes in the departments of Physics, Physical Education and Tamil a new smart class room was set up in the Dept. of Economics.
12. As the students of Physical Education have to attend morning classes, a new Bath area was constructed with multi-shower bathing system and it will help the students to get ready to regular classes after attending the morning practical classes on the ground.
13. UGC Schemes Office functioned in an effective way that it informed all the staff members the periodical updated from the UGC and also it initiated them to apply for more Research projects. Thanks to Dr.A.Seetharaman, Coordinator of UGC Schemes, many staff members have received Projects grants from UGC and others applied for Major or Minor Research Projects.

ACTION TAKEN DURING 2014-15
1. LCD Projectors were provided to all departments
2. Women teachers were provided with new retiring room with all modern AMENITIES
3. College office was completely renovated and automated
4. New toilets were provided for players
5. A new Record Room was created for college office
6. The Management provided seed money to the departments to organise seminars and conferences
7. New counters for student affairs were made in the college office
8. All old and rare volumes of college library were bound
9. A new extension building was constructed for General Library so that the reading area was expanded
10. An Auto-transformer was purchased for Secretary ALS Seminar Hall
11. Physics Laboratory was renovated providing with latest AMENITIES
12. A bathing area was constructed for the students of the Department of Physical Education
13. New equipment room was constructed for the department of Zoology
14. A new Smart class was established in the Dept. of Physics
15. A Smart Board was purchased for one of the seminar halls
16. Managing Committee Chamber was renovated with modern AMENITIES
17. Auditorium was completely renovated with full false ceiling

ACTION TAKEN DURING 2015-16
1. A new Generator Room for Auditorium was constructed
2. Renovation work in the departments of Commerce, Tamil, Maths and Economics were done
3. New UPS Section was set up for Physics Laboratory
4. The Construction of compound wall was started
5. Tally Laboratory for the department of Commerce was set up.
6. LEAD forum was established for conducting Leadership and Soft skills programmes with Mr. S.Elango Subramanian as Coordinator
7. HORP Forum for encouraging the students in community service was established with Dr. A.S Ganga as coordinator.
8. SLET/ NET Coaching was organised with the financial assistance of Alumni Association
9. Anew office was set up for the Career Guidance and Counselling Cell
10. Library Reading Section was extended

ACTION TAKEN DURING 2016-17
1. The entire campus has become Wi-Fi covered
2. New multi-purpose Computer Laboratory was set up
3. Preparatory Course in Communication Skills and Personality Development was conducted
4. New Toilet was constructed in the Library building
5. Staff Toilets were completely renovated
6. Two wheeler Shed was constructed for students and staff
7. LEAD and HORP Forums were strengthened
8. NAAC Sponsored National Conference was conducted

ACTION TAKEN DURING 2017-18
1. Renovation of Library Building.
2. Extension of Girl's toilet.
3. Construction of Multi-purpose Gymnasium with UGC's financial assistance & Management contribution.
4. Renovation of Boys' toilet.
5. Constructions of Ramps.
6. Installation of CCTV Camera.
7. New Twelve Iron doors in Ladies toilet.
8. Renovation work in Zoology Laboratory.
9. Introduction of Biometric system.
10. ERP Portal was launched.
11. New gas pipeline in Chemistry laboratory.
12. IIQA and SSR were submitted to NAAC.

FINANCIAL SUPPORT OF THE COLLEGE MANAGEMENT
To implement various improvement plans the college management was so magnanimous to provide the financial support to the fullest extent.
Academic Year 2012-13 : Rs. 7,26,500/=
Academic Year 2013-14 : Rs. 22,78,540/=
Academic Year 2014-15 : Rs. 40,88,830/=
Academic Year 2015-16 : Rs. 17,00,000/=
Academic Year 2016-17 : Rs. 18,10,000/=
Academic Year 2017-18 : Rs. 20,03,196/=
ACADEMIC CALENDAR 2017-18: Click here
ALL INDIA SURVEY ON HIGHER EDUCATION REPORT 2016-17: Click here
STEERING COMMITTEE MEETING MINUTES: Click here
FACULTY PARTICIPATION IN ORIENTATION & REFRESHER COURSES: Click here
STUDENTS ACTIVITIES : Click here
E-WASTE MANAGEMENT : Click here
CODE OF CONDUCT FOR TEACHERS : Click here
ANNUAL QUALITY ASSURANCE REPORT
Annual Quality Assurance Report - 2016-2017
Annual Quality Assurance Report - 2015-2016
Annual Quality Assurance Report - 2014-2015
Annual Quality Assurance Report - 2013-2014
Annual Quality Assurance Report - 2012-2013
Annual Quality Assurance Report - 2011-2012